This is a list of Inside Jokes and References created by DC and their fans.
Note: this does not include memes from other sources, such as Spongebob Squarepants.
Sliderman
Edit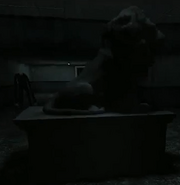 During the Livestream of
Sanatorium
,
Fan
Yumizoomi coined the term after seeing Slenderman moving with no animation. Since then, Slenderman has been called "Sliderman" by both the DC Crew and their fans. Sliderman has also become a replacement of the Slenderman Meme, often being referenced in situations such as members of the DC crew being alone.
Also inspired the Flash game Sliderman made by MoonHitler.
Originating from their Let's Play of the laughably bad Superman 64, "Lex Wins" (which was originally used when the player failed to complete a task) is used when anything DeliciousCinnamon does fails to go according to plan. Isaac is killed unexpectedly? Lex Wins. Crash loses his last life in the most stupid manner imaginable? Lex Wins.
The fans of DeliciousCinnamon are very critical about spelling, most evident in the chat of the livestreams and the Minecraft server. Occasionally, a mispelling is liked so much by the fans, it is used in place of the original word. Notable examples:
Skeep (a misspelling of 'Sleep' by Bert)
Nifhr (a misspelling of 'Night' by Bert)
Lovestream (a misspelling of 'Livestream' by Myuu)
Fropping (a misspelling of "dropping" by Bert) now used to mean Frames Dropping.
Bert's Critical Thinking Skills
Edit
BCTS are employed when Bert figures out the incredibly obvious solution to a problem. BCTS was first noticed during their Criswelvania playthrough.
Memes From the Let's Plays
Edit
This meme was created during an episode of Crash Bandicoot . It originally was used whenever Mysh performed an act of great skill, or as Bert describes it, a "hat trick." Mysh Mad is also occasionally used when Mysh is actually mad.